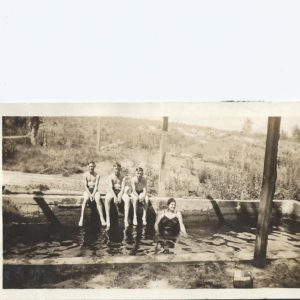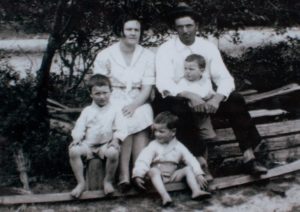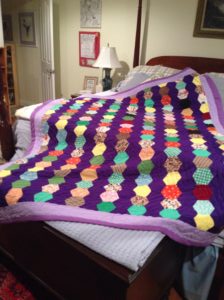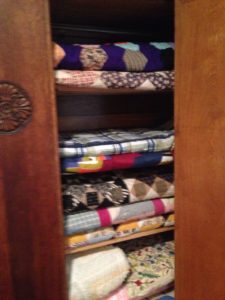 Question from my 42 year old daughter:
I'm wondering if you can help me with in the next couple of days. I'm working on the essay I started a couple of years ago about the quilt Granny Boyd made that you gave me. I know you don't know much about the quilt. Can you tell me a bit about Granny Boyd? What are your memories of her? Do you have any memories of seeing her working on quilts? If not, what memories do you have?
I recall seeing Granny Boyd quilt regularly.  She and her sister, Oma Carroll Threatt, quilted often at Granny's house.  She had a large quilt frame that they would set up in the kitchen/den area. I think the quilt frame went to Marcia and Dan Boyd's when Granny died.  Granny and Aunt Oma would laugh and talk and reminisce as they quilted hour after hour.  They would "piece" the patterned tops by hand.  Then they'd pin the finished top to a single piece of back fabric with "batting" in between, and stitch the three layers together with small precise stitches.  A band would be sewn around the four edges to secure the layers. Granny and Aunt Oma and their brother, Roy Carroll, had lost their mother as young children.  I think Granny was about 6-8 years old when her mother died. Oma was the older of the two and essentially raised Granny, whose name was Annie Elma Carroll.  Granny married young, probably 16.
Aunt Oma had one child, a girl…Mittie Ruth Threatt, who married Johnny Boyd.  They had one son and ran a country store south of Clayton.  Johnny has died.  Mittie Ruth has dementia, but still lives in their home.  Aunt Oma lived with them in her declining years.   I think their son runs the family's country store still and farms.  Uncle Roy Carroll died in a nursing home in Tuskegee, AL when I was in my 30's.  Daddy took me with him to visit him a couple of times. Granny's daddy remarried a younger woman. She was elderly when I was child.  She lived in an old shack in Barbour County.  Daddy took us there a few times to see her, too.
Granny was constantly busy, it seemed to me.  She always wore a simple shift style dress and a full bibbed apron with two pockets at home.  She made the aprons. I have a couple of them.  She also had a sun bonnet she wore when working in the yard sometimes.  I have the bonnet now.  She also sewed other things.  She apparently made her sons shirts when they were children.  She'd sew shirts and pajamas for the grandsons, too.  I don't recall her making other things except men's shirts and aprons, and maybe dish towels and curtains.  She'd use the fabric from flour sacks, which was still common when I was a child to make the dish towels.  She'd get up at 4a.m., cook a large breakfast- biscuits, ham, and eggs for whoever was there.  She cooked in black iron skillets and her house always smelled like something was fresh baked.  She generally had barn cats and a dog around in the yard.  She'd feed them table scraps mixed with bagged pet food.  She would gather eggs from the hen house in a red egg basket (that I now have) and water her flowers that were planted all around the house and in pots on the porch. I recall her milking cows and churning butter, too, when I was very young.  She also had fruit trees- fig, plum, and pomegranate.  It was always odd to us as children that Granny went to bed by dark.
Granny loved color.  Her house had been remodeled when I was a child and every bed room had brightly colored floral wallpaper.  She was married young to my grandfather, William Nicky Boyd, and they had three boys quickly.  Papa Boyd died when the youngest son, my Father, James Henry Boyd, was about 22.  Papa fell from the hay loft of their barn and suffered a traumatic brain injury.  My Father was in the army at the time, stationed at West Point as an instructor to cadets on the use of their weapons.  He came home and got out of the Army then to help his two older brothers, who were married and had begun their families, manage the family's businesses – a feed mill, trucking company, farming, and a small store across the street from their house.  Granny also had a florist in a house next to their home-  "Elma's Florist".  She kept several pots of plants all the time ready for sale and a cooler of beautiful flowers for making arrangements for funerals and special occasions.  The store and the mill were sold, I believe. The three Boyd Brothers managed the trucking company.  Granny took in boarders during the next few years.  I recall two men who were working in Clayton who stayed at her house for a couple of years.  They were carpenters, I think, working for a construction company.   She cooked breakfast and supper for them.  They'd watch TV briefly, then go to bed.  Granny remarried Edgar Hartzog.  She was about 45 at the time.  He farmed.  He'd been a WWII veteran who had never married.  He was a kind man.  He liked fishing and he and Granny seemed happy together. As Papa Edgar got older, he suffered from paranoia, probably from war-induced PTSD.  He thought people with guns were on their property watching him.  He eventually killed himself with a pistol shot to the forehead lying in his bed.  Granny had two fishing ponds during that time just down a hill from her house.  She would take her cane fishing poles and take whatever grandchildren were around and we'd go fishing.  I recall family fish fries.  My uncles would pull out a large black pot and cook the fish and hush puppies in it in the back yard.  The family gathered at Granny's house for most holidays- Thanksgiving, Christmas, Mother's Day, July 4th, and Labor Day.  There was always lots of food.  Granny made a particular cake that was her signature cake-  a peanut cake.  No one could find the recipe after her death.
Granny was a spiritual woman.  She attended church every Sunday….the Mormon Church a few miles from her house.  Her first husband, Nicky, had been Methodist and their sons had attended the Methodist Church in Clayton. I attended the Mormon Church with her on occasion.   I saw her read her Bible often.  She also had interesting books on her shelf about growing herbs, herbal remedies, and one about dreams. She didn't drink coffee or tea, just water.  She didn't smoke.  She was a no-nonsense kind of woman.  I do remember seeing her play dominoes occasionally with Aunt Oma and others.  She loved to go to gospel "sings" and knew most of the local gospel groups.  When she died she had asked for one of them to sing at her funeral.
Granny was diabetic and had a heart attack in her yard, still in her apron, when she was about 65, I think. (Actually, my sister corrected me.  The dates on Granny's tombstone are: born 11/17/06 and died 3/6/76.)   She was able to get into the house and call her oldest son, Uncle Dempsey, who came to her immediately from down the road at the trucking company.  She died in his arms.
Granny and Aunt Oma made dozens of quilts.  I think every grandchild and great grandchild received one at some point.  The one I received from Granny was a very bright one, mostly purple as the dominant color, that is made of double knits.  It is the only knit fabric quilt I ever saw among those she made.  I was never very fond of the fabric, though, and have used it very little through the years, though it is carefully stored in the armoire in my guest room with other quilts made by Granny and Mother Greene that I have received over the years. I never asked Granny why I got the only one of its unique kind that she made……. I was afraid that my question to her might expose my disappointment in having received the knit fabric quilt instead of the cotton quilts that seemed so much softer and prettier to me.  I never wanted to hurt her feelings, knowing how much time and love went into everything she made.  My purple knit quilt, however, actually is probably the most durable and indestructible of all of her creations,  given its fabric, and I never thought about that aspect of it until just now.  Maybe it is representative of the persevering quality of the faith I observed in Granny.  She was optimistic and hopeful, encouraging but realistic about life.  Her practical creativity and industriousness are attributes I admired.  She was a person of simple tastes and not very educated, but she had a lot of practical common sense and worked hard for her family.  She was somewhat quiet but not reticent about expressing her opinion, if asked.
I hope that gives you what you are looking for about one of the significant women in my life whose memory still can bring tears of love and missing her to my eyes.
The photos above are Granny's family-  my Daddy is sitting in Papa Nicky's arms.  The other is Granny in the pool with the boys.  The pool was built on their property before the ponds were there.  It was spring-fed, I believe.    It was covered up many years later.