This time of year I wind up doing repairs to some ornaments and decorations that have suffered in storage……  glue, tape, new string or wire, In January 2016 I wrote the story below about a "rescued" Willow Tree Angel of Song who had lost her instrument but nonetheless, had found a place among a small group of angels in my home.  This past week in a box of assorted miscellany I found a small silver guitar that apparently went with some small toy of one kind or another.  When I saw it I immediately thought, "Hmmmmmm, I wonder if this would fit in the hands of the Willow Tree Angel of Song."   Well…….here's the result on the left, with a picture of what an Angel of Song would have looked like new from Demdaco's file.  I think I will try painting this little instrument brown and see if it looks more at home in an angel's hands!  It almost looks like it could be a violin from the scale in her hands!  Just a little ornament rehabbing….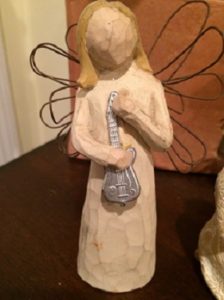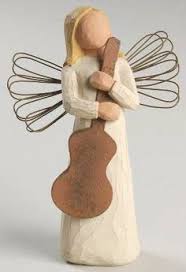 From January 2016:
Willow Tree angels and other figurines have been popular for quite some time.  They have become so ubiquitous and popular as gifts that now we find that Willow Tree figurines are showing up in donations to our women's ministry. Not everyone, it seems, is a Willow Tree fan or collector.  One recent Willow Tree gift to the Titus 2 Ministry was an "Angel of Song" figurine.  However, the guitar that is shown on the retailers' photos of the piece is missing from this piece.  And her wire wings are a bit askew from having tumbled in the box with other donations perhaps.
I plucked the figurine from the box of donations and looked at it.  I placed it on a table with a couple of other Willow Tree figurines that had been given to me personally- Angel of Learning and Prayer of Peace.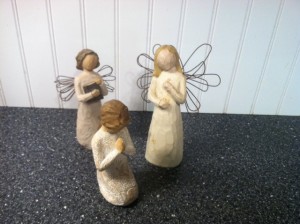 When I looked at it on the table with the other pieces, I was reminded of people at Mathison Retirement Center's Dementia Unit and the Alzheimer's Respite Center of Council on Aging who would come to Merry Makers music programs when we performed last year.  They would join in singing the old songs we were leading……some hymns, some childhood favorites, some from the era of their youth and adulthood.  Though many might not know the names of members of their own families or who is president or what season of the year it is, they could sing all the words of familiar songs.  It is amazing the enduring power of a memory when it is attached to a favorite tune.
Seeing the Angel of Song without her instrument, but with her arms folded in a posture of clasping, it suggested to me that "song" really isn't about possessing the instrument, it is about clutching the memory of the emotion the song evoked….the joy, the love, the laughter,   I had emailed Demdaco to see if the Angel of Song's instrument could be replaced and found that was not possible.  But now that the Lord has spoken to my heart about the true power of "song", I imagine that she will live out her life in the little growing "Willow Tree"  collection without her guitar, cherishing instead, as I do, the memory of songs.