December 27, 2018
WJHG had a reminder in morning news about the fire hazard of drying Christmas trees. What about the fire risk of fallen dead trees on the roadsides and on every vacant lot in the area. Hope the FD is ready for fires that threaten neighborhoods like mine!
December 30, 2018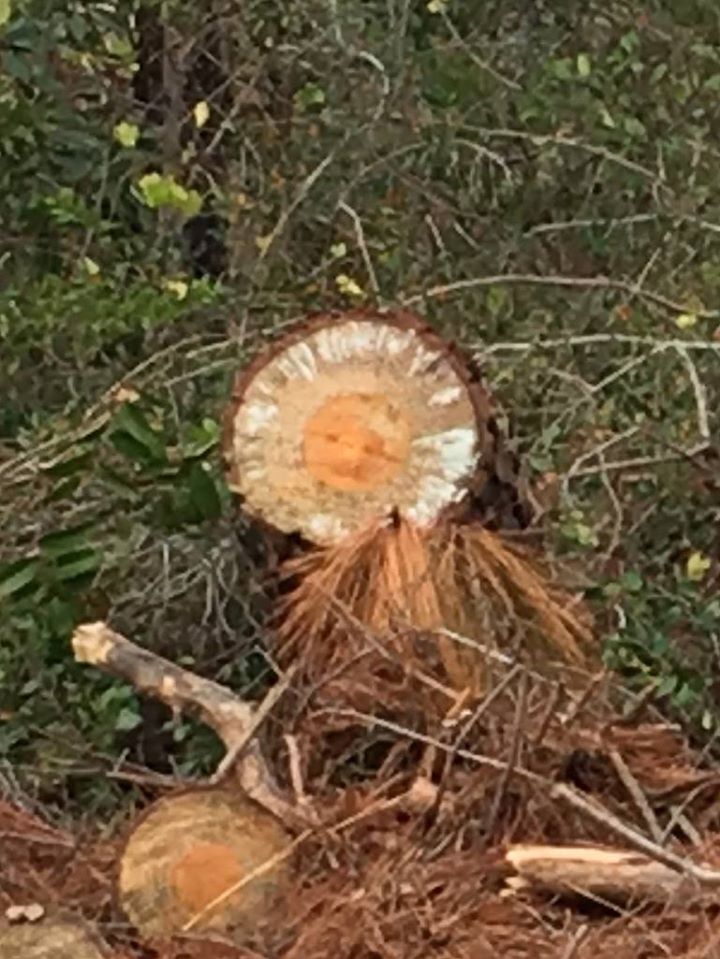 As we left church today Ashley and I saw the end of this cut tree trunk near the corner of Mosley Dr and Minnesota Av. Looks like a happy face with sun rays radiating from it! Like a Teletubby Sun Face!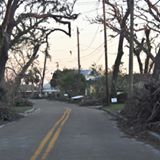 "Things are good now, right?" She asks me with a hopeful look in her sweet eyes. I want to tell her that they are…
It's more than the trees.
It's more than no Target or TJMaxx or Home Goods or 5 Guys or Cahall's.
It's more than the awful traffic and out of sync traffic lights.
It's more than school in portables and Reagan's dreams of her last year at HNES being unachievable.
It's more than the piles of debris that continue to mount and be hauled only to be replaced by more.
It's more than friends that have moved and wondering if they will return and the worry that more will choose to leave.
It's more than worship under rafters and tarps.
It's more than blinding sun streaming through my windows now that all of my yard and neighborhood has been hauled off for mulch.
It's more than another nail in a tire.
It's so much more…and yet it IS good. Not normal or recovered or done, but I choose see good.
In the post about a new yoga studio and a brewery opening downtown.
In the new roof for my neighbor.
In a couple moving TO Panama City to work for a family owned business that has made the hard decision to dig in and do the hard work of rebuilding.
In the crowd at church on Sunday.
In the face of the friend who stands in a new place full of new furniture donated by strangers far away and set up by church friends.
In the eyes of the elderly lady who looks once again at her yard with hope because several families have come on a Saturday to clear the trees and broken swings and placed her potted plants right again.
In the conversation between neighbors who have chosen to use their tractor and trailer to haul logs from someone else's yard.
In the groups that linger at the table or in the foyer to find out how you're really doing.
Yes, I want to notice the good
January 15, 2019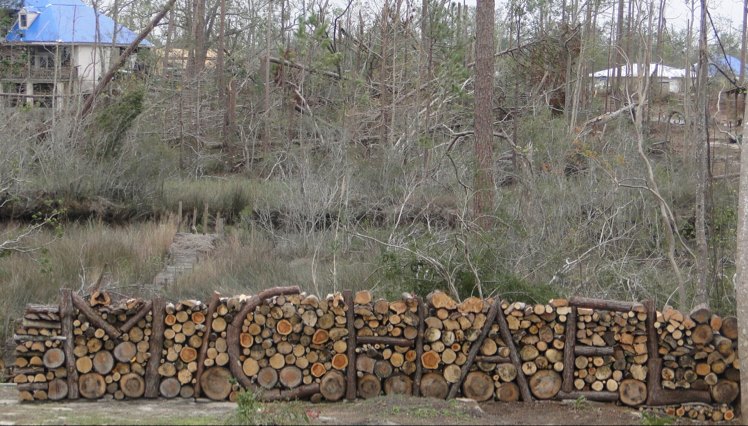 When you have to clear almost all the trees from your yard following Hurricane Michael, why not get creative with the resulting woodpile like Nick Nowlan and Deborah Tramontana did in their backyard on Brook Forest Drive. Thanks to Erica Ostrander for this photo.
February 7, 2019
The devastation of the landscape is as heartbreaking to many of us as our own personal property losses. The barrenness of the trees, the yards and roadsides still destroyed by fallen trees and heavy equipment, continued trash in many places, businesses and some homes that have had no remediation or demolition. We're now 1/3 of a year beyond HM and we are seeing that the half year mark and even the one year mark will still find us with much unrepaired or restored…. and our community scarred and limping.
February 8, 2019
Me: (At ACE Hardware in LH, looking at trees) Are you selling any of those pine trees?
Clerk: (Laughing) Not a single one! A man was by here yesterday and asked what trees we had. I told him we had pine trees. His response was, "Not just no, HELL no!"
Me: (LOL!) I'll never have another pine tree in any yard of mine!
(Picked up 4 free river birch seedlings free. 2 per household….our house and Titus 2's.)
February 19, 2019
We breathe in what the trees breathe out, and they breathe in what we breathe out. Forever overwhelmed by the beauty of God's design…
March 27, 2019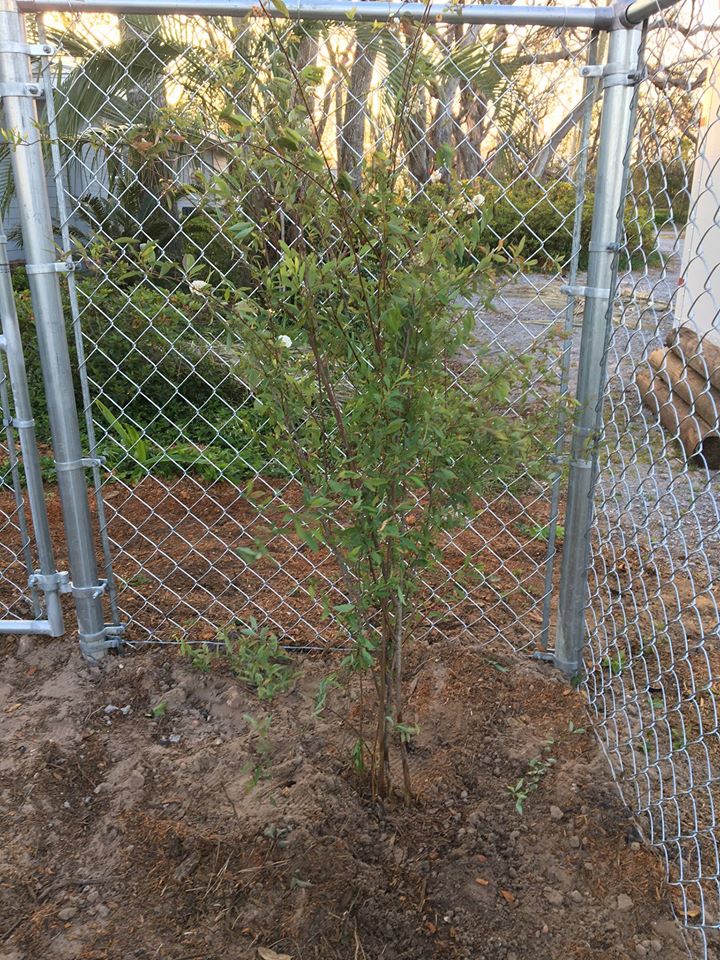 When the fence was destroyed by fallen trees and the tree debris removal was done, three bridal wreath shrubs were destroyed, too. A few stalks of one bush made a valiant comeback and was transplanted to a protected corner of the new fence. God's plan for inspired resilience at work! Hooray for spring after a long season of winter!
April 18, 2019
I woke up refreshed and with a bubbling measure of cheer! Listening to an Alabama album on my playlist and dancing while I make the bed. St Joe is down the street clearing out the forest devastation along the Deerpoint Lake. Sorry to see our trees on the street go but hopeful what remains and what replaces them will flourish. And praying we and all our neighbors in affected communities will flourish, too.
April 4, 2019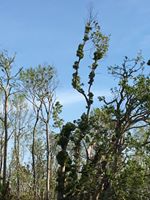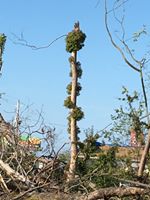 Pammi Nevins and I were driving around and looking at the tree damage and recovery so far. She observed that some of the surviving trees look very Dr. Seuss-i-cal! I have to agree! A little bizarre, yet vaguely familiar and whimsical.
May 20, 2019
In addition to a pine tree ( to which I say good riddance!), seven oak trees and the palm tree we lost in Hurricane Michael, I lost a nice sized English dogwood, 2 cedars, several sago palms and azaleas, a crepe myrtle, several bridal wreath shrubs, a Japanese maple, and a flowering cherry tree. Then numerous other potted plants and landscape items- pacific juniper ground cover, dwarf yews, confederate jasmine, and more. ***SIGH****. We will be 4-5 years getting the yard back in shape.
May 21, 2019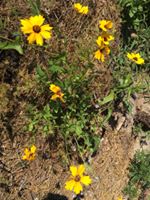 A few weeks ago a Titus 2 student and I stopped and dug up a clump of black eyed Susan wildflowers on our little road that were in jeopardy of being run down by trucks coming in and out pulling out downed trees in the acreage across the road from us. We set them by a fenced area where they can seed for next year. We enjoyed them until they went to seed. She asked me if they were weeds or flowers. I told her it depended on one's perspective. I told her about a passage from John Galsworthy's The Forsyte Saga I'd read years ago that had stuck with me. She wanted to read it. I looked it up (much easier in today's world with the internet than looking through years of handwritten journals!) "Love is not a hot-house flower, but a wild plant, born of a wet night, born of an hour of sunshine; sprung from wild seed, blown along the road by a wild wind. A wild plant that, when it blooms by chance within the hedge of our gardens, we call a flower; and when it blooms outside we call a weed; but, flower or weed, whose scent and colour are always, wild!"
May 26, 2019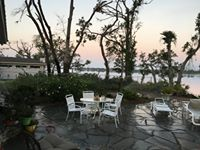 Quiet morning view from the back porch……still a bit sparse and sad, but valiantly striving to come back. Next step, plant some new trees now that irrigation is in to support them.
May 30, 2019
Lord, how did I miss them? I was so busy five minutes ago crying in the prayer garden, wailing out in grief, lamenting all the weeds, how they seem to be the only things really flourishing, bemoaning how the trees are struggling, how the annuals are all too brief in their glory, how the blooms of the roses last only a few days when I need more to sustain a sense of beauty around me. I'm struggling, Lord. The drought is challenging me to keep grass green and pots looking fresh. You know how that keeps my spirit lifted. Then just as I I sat down to pour out my grief I looked out the door and there they were…… the lovely purple blossoms on the shrub-form crepe myrtles along the entrance walkway. I had not even noticed them. They've been planted there for five years and NEVER bloomed. I never even knew what color they were. I'd given up on them. They were planted when we built the addition in 2014. I had considered them impotent and pretty useless for their lack of vigor. After the storm when they, like everything else were battered by fallen limbs I considered simply pulling them out and starting over with something else, but I pruned them one last time. They had put out new growth. And you blinded my eyes to what you were doing with them. Today you chose to open my eyes to them at my lowest moment.
They have blooms. Common crepe myrtles that I refused to even consider planting anywhere else on the lot. Because in all the time we have lived here these three and the other one by the street have never bloomed. I had two others cut down a few years ago because they had never bloomed. Today these have blooms. Your timing is always perfect. It always brings hope and teaches lessons. The reason our crepe myrtles have never bloomed is because there was too much shade. Now there is no shade. They have enough sun to actually bloom. I think God is telling me to plant crepe myrtles if I want color AND shade. .
February 23, 2020
It's a SPRING THING!!!
Love this quote below by Liz Curtis Higgs!! As I drive around I am blessed by blooming bridal wreath ( spirea van hootii ), other shrubs like viburnum and eliagnus, bulbs pushing up and peeking out, new green growth arising on stems and limbs. One can almost hear God's creation "bursting into song and clapping its hands!" 🎶🙌💕🙏😍
"With the imagination God has given you & the vivid scenes painted in His Word, picture your day unfolding like this: "You will go out in joy & be led forth in peace; the mountains & hills will burst into song before you, & all the trees of the field will clap their hands." Isa 55
February 24, 2020
"There comes a time in every life when the world gets quiet and the only thing left is your own heart." – Sarah Dessen, "Just Listen"
Though the trees are gone, the sunsets remain….
March 21, 2020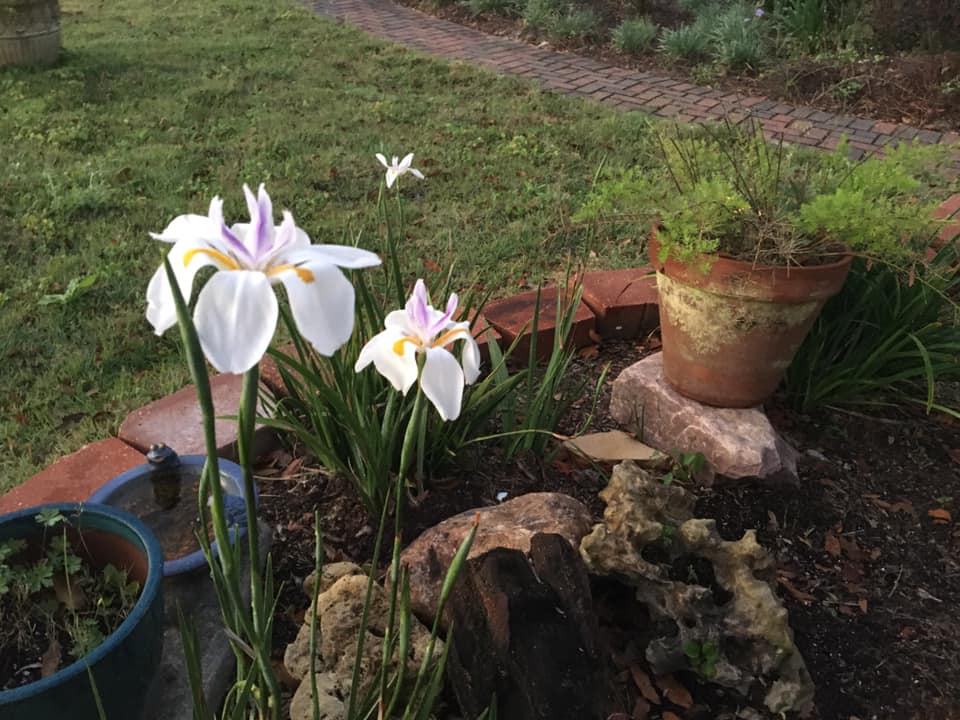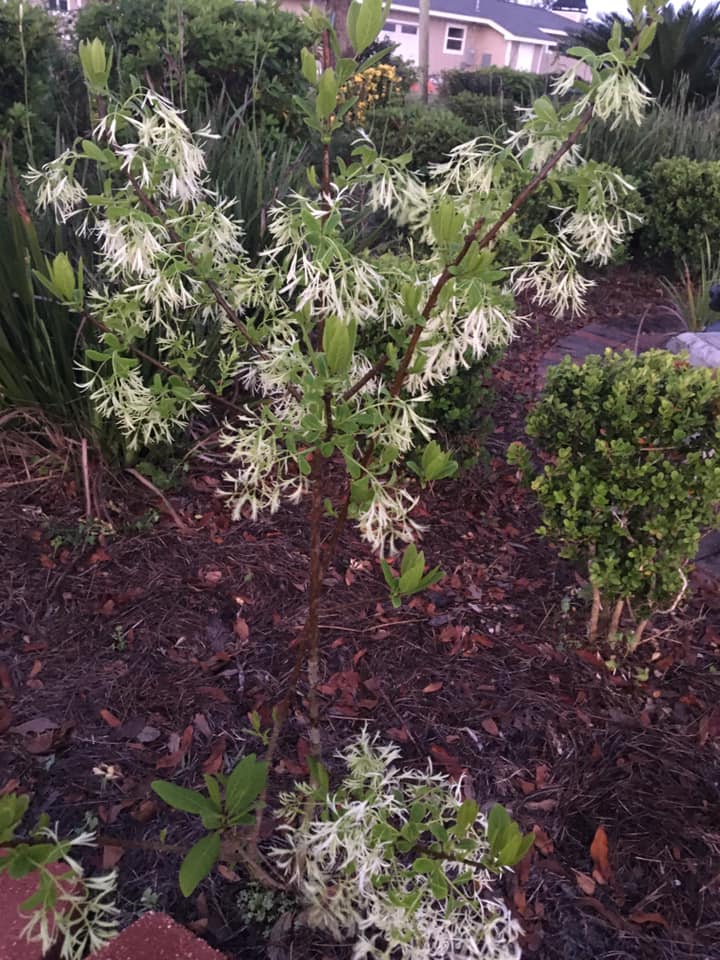 Virginicus Shrub Tree…aka "Grancy Greybeard" or Fringe Tree…. among the blossoms in our front yard… for those asking for photos to override the constant drone of viral posts… these are 1-6 in my camera roll album! I planted it last year, a dose of post Hurricane Michael garden therapy to console my heart after the loss of our palm tree and so many oaks. I've always loved their soft flowing blossoms..when they tremble in the wind one almost gets the picture of a tree ablaze, but not consumed….Hmmmmm.. if I walked up to investigate such a sight and heard a voice telling me to take off my shoes , that I was on holy ground, I'd feel a bit Moses-ish, especially if I'd never seen one before….. the glow of red oaks in early spring as their leaves bud out can give me the same sense of awe and wonder. Can God speak from a tree? He certainly seems to be able to, just depends on whether or not one can hear what God is saying….other arboreal candidates from which God might speak? Ginkgo tree, flowering almond, citrus or other fruit trees, mimosa, or maybe even mustard???…. perhaps the reason the Bible speaks of "trees that fruit in and out of season"…. and Jesus' 2-part healing of one blind man led to the observation by the man that the man's vision seemed like "men like trees walking around"….opens whole new possibilities for contextual interpretation of the Holy Word of God!!! From a horticulturalist/ arborist/naturalist/botanist/scientist's perspective. I think God would like such a translation/ paraphrase… what do you think? I think I hear trees clapping their hands in the breeze this morning. What is God's native tongue? Beauty, order, diversity, harmony, wonder…..LIFE! "Surely God has created the beauty of this world for His glory and our delight!" I spoke those words out loud in praise to God on March 20, 1997 as I observed the dawn breaking over the blooming trees, shrubs, and flowers on the gently rolling hills of Southeast Alabama just north of Abbeville as I drove on US Hwy 431. As soon as I spoke those words I heard God speak in my mind/heart/spirit, "Tell others." LOL! This seems like an apropos moment to shout it from the rooftop and across the lake! Consider yourself informed., all you "Others" out there! The old is gone. The new has come…. carpe diem!
March 31, 2020-
I am listening to the breeze blowing in the few trees remaining around me at Deerpoint Lake today. Wind chimes in the yard offer a soothing song. A pollen-cleansing rain is due today. Lord, let us receive each day's gifts with joy.
April 8, 2020
A morning spent planting flowers and weeding flowerbeds reminds me I have body parts that aren't getting used regularly! 😳
May 9, 2020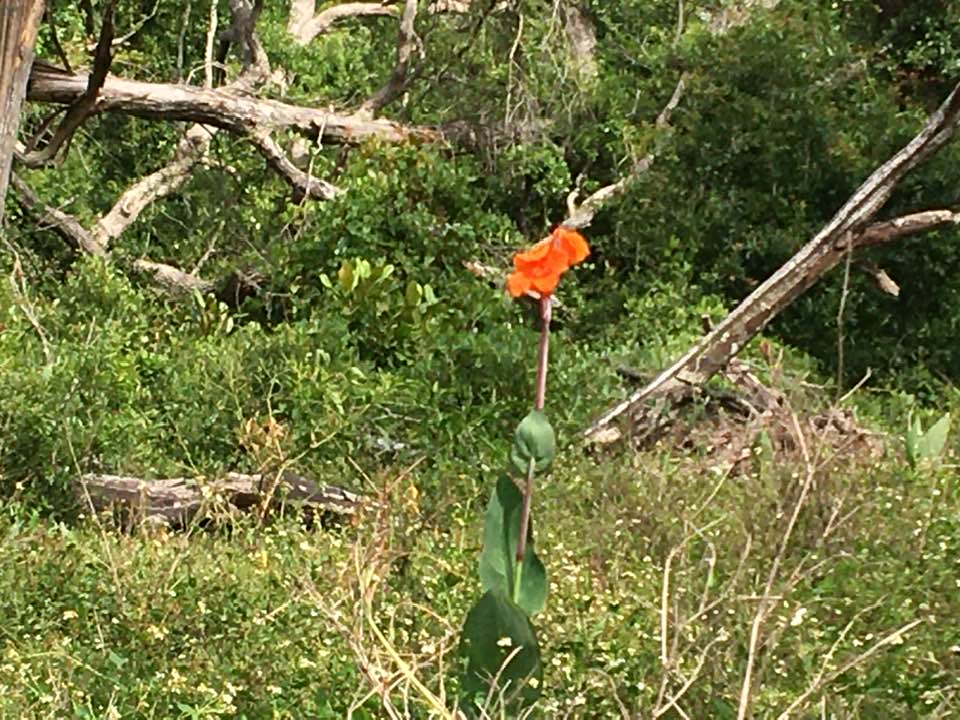 A vacant lot in our cul de sac became the de facto debris gathering point after the first pass picked up the house by house debris piles after Hurricane Michael. Much of the debris eventually got cleared away from the roadside on the vacant lot and this year this lovely single orange Canna lily popped up. I don't see them any where else on the street….See, the Lord says, I am doing something new.